Full Mouth Replacement - San Antonio, Tx
Stabilize Your Smile with Dental Implants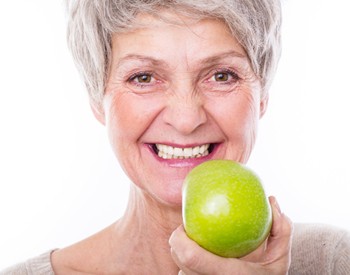 Your teeth are designed to a last for a lifetime with the right care over the years. Now, new innovations in dentistry make it possible to preserve your teeth for longer. Unfortunately, despite these advancements, 35 million Americans do not have any natural teeth. If you are among those who have lost all your teeth, Dr. Joseph H. Noble can rebuild your smile with dental implants in San Antonio. You will never need to worry about any slipping or irritation again. Your denture will be secured to your jawbone to give you the next best thing to your real teeth.
What can I expect from full mouth replacement?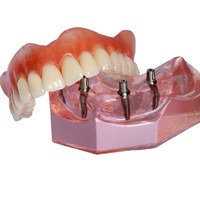 Full mouth replacement is used to treat all missing teeth on the top, bottom, or both arches. Traditionally, dentures are used, which have undergone several improvements to the methods and materials used. This has made them look and feel more natural, but there are still limitations.
As an alternative, you can choose the security of dental implants anchoring your denture to your jawbone. When choosing dental implants, you will advantage from:
Implant-Retained Dentures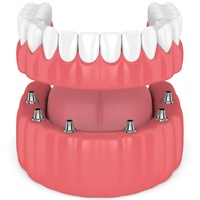 A traditional denture is held to your gum tissue using suction or an adhesive. Implant-retained dentures use strategically placed dental implants to hold the arch in place. After ensuring you have adequate bone density, an average of 6 to 10 implant posts are surgically placed into your jawbone. You spend the next several months healing to allow your jawbone to fuse to the posts before being fitted with your permanent denture, which clips onto the posts using special fixtures.
All-On-4 Dental Implants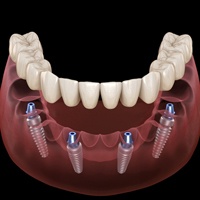 All-On-4 is another type of implant-supported denture. It differs from the standard treatment because only 4 implant posts are used to support the denture. Although fewer posts are needed, you will enjoy the same benefits as the traditional option with a couple of other advantages as well.
The posts are placed into the thickest parts of the jaw. As a result, this can eliminate the need for bone grafting for patients who have lost density in their jaw. Often, you can also be fitted with a temporary denture the same day as your placement surgery, so you do not need to go without any teeth while you heal.
Am I a candidate for full mouth replacement?
If you have lost all or most of your natural teeth, you may be a candidate for full mouth replacement using dental implants. You will need a consultation with your dentist in San Antonio, Dr. Noble to evaluate your oral health and medical history. He will help you find the solution you need to rebuild your smile.
Contact our office today to schedule your consultation for full mouth replacement.