Beautifully Transform Your Smile with Cosmetic Dentistry in San Antonio, TX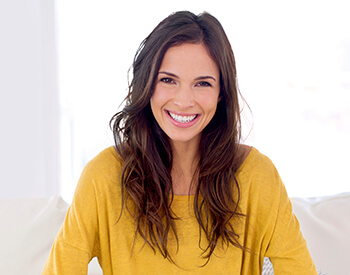 Truthfully, healthy teeth aren't necessarily good-looking teeth. Over time, patients' smiles can experience a whole variety of cosmetic imperfections, from dark discoloration to noticeable chips to sizeable gaps. Instead of hiding in the background of photos for the foreseeable future, consider making a positive change with Dr. Joseph Noble's help here in San Antonio. Our team offers several cosmetic services that are designed to refresh your appearance, and we'd love to work with you to determine the options that fit your personal goals and budget best. Contact us today to schedule your first visit!
Porcelain Veneers
Dental flaws have a habit of building up over time, making the prospect of seeking cosmetic treatment overwhelming for many patients. In this situation, porcelain veneers could be your best bet for fast, effective improvements that exceed expectations. These high-quality restorations are designed to be extremely lifelike and wafer-thin, which allows Dr. Noble to place them over the front surfaces of affected teeth. Once in place, veneers hide years of stains, chips, cracks, gaps, and more underneath all at once, and their creation only takes a few, convenient appointments.
With proper professional maintenance and at-home oral hygiene, veneers can last for 15 years or even longer. They're actually more resistant against gradual staining than your natural enamel to boot! Here in San Antonio, Dr. Noble prides himself on creating beautiful, lasting results patients can brag about to their friends and loved ones.
Direct Bonding
Even the smallest of imperfections can consume your attention as you're getting ready in the bathroom mirror every morning. If you're struggling with a minor crack, gap between teeth, or stain, direct bonding is a quick and effective solution that only takes a single appointment here at our San Antonio practice. Dr. Noble will sculpt the tooth-colored composite resin material into place over the affected tooth, creating a subtle addition that both looks and feels natural.
Metal-Free Restorations
Older patients surely remember the days of silver and gold restorations that stood out prominently in otherwise natural smiles. While these materials may still be the right choices for some patients, Dr. Noble is glad to primarily offer all-ceramic dental crowns, inlays, onlays, and more for those who'd prefer a more lifelike option. These restorations are precisely personalized and highly durable; they even reflect light in the same way as your original tooth enamel.
In-Practice Whitening
Do you have a wedding, graduation, or other big event that's coming up fast? Its arrival may not be welcomed if you're feeling unhappy with the dull color of your smile. Thankfully, Dr. Noble can help you achieve lightning-fast improvements with in-practice teeth whitening. All the patient has to do is settle in and relax as our team handles the applications of high-powered gel; after just one appointment, your teeth will appear significantly brighter by multiple shades, giving you the confidence you need to smile with pride.
At-Home Whitening Kits
In-practice whitening isn't for everyone. Maybe you'd prefer to improve the color of your smile at a more gradual pace, or maybe you just need a greater amount of flexibility when it comes to treatment. Whatever the reason is, our team offers at-home whitening kits that are easy to use and highly effective. All you need to do is wear the whitening gel and custom oral trays together for a certain amount of time each day; this can be done when you're handling chores, getting ready in the morning, or watching TV at night. Within a few weeks, you should see noticeable, beautiful changes.