Full & Partial Dentures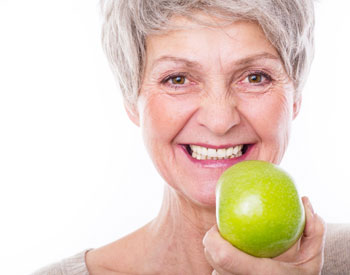 Thanks to dentists focusing on preventive dental care, fewer patients than ever need dentures, but for those people who do need to renew their smiles following advanced tooth loss, innovations in the materials and techniques used to create dentures make these prosthetics more comfortable and effective than ever before. If you've lost numerous teeth or a full row of teeth, contact Joseph H. Noble, DDS and his dedicated San Antonio dentistry team. We'll schedule an appointment to assess your oral health and review your treatment options. No matter how extensive the tooth loss, we'll create a personalized treatment plan to restore your smile.
Partial Dentures
Both partials and full dentures are made using a gum-colored base material to support replacement teeth. The partial denture base is molded to fit between teeth completing the smile. Metal clasps are attached to surrounding healthy teeth to anchor the partial. With proper care, the partial will function comfortably for years.
Full Dentures
A full denture is crafted using the same base material to support a full row of teeth. Because there are no healthy teeth remaining, the denture needs to be stabilized in a different way. The base material is shaped to fit against the gums. The snug fit creates suction that anchors the prosthetic in position. Some patients use a small amount of denture adhesive to improve the stability of their denture. In most cases, patients need to wear their new denture for a few weeks to adjust to the feel and function. However, if you experience severe discomfort or don't adjust to the feel of your denture, you'll need to call our office. We may need to refit or adjust the prosthetic.
Caring for Your Denture
If you have a removable denture, you'll need to brush these prosthetics using a specialized denture base and minimally abrasive toothpaste. Additionally, dentures should be stored in cold water or denture cleaner whenever you're not wearing them. This prevents the base from becoming overly dry and brittle or losing shape. If you're concerned about dexterity, you may want to lay a towel on the counter while you clean year denture to prevent breaking the prosthetic.
Dental Implant Supported Tooth Replacement
For many patients, dental implant supported dentures offer restoration with improved stability and longevity. Unlike traditional dentures that can be removed at home, dental implants are fixed. That means they can only be removed by a dentist. The tooth replacement prosthetic is attached to dental implant posts that mimic the natural root structure. With proper care, an implant supported denture can last ten or more years and provide natural looking, feeling, and functioning results. In addition to lasting for decades, dental implant supported dentures restore 70% or more of lost chewing function. This is compared to just about 20% with even the best traditional dentures.