Advanced Dental Technology in San Antonio, TX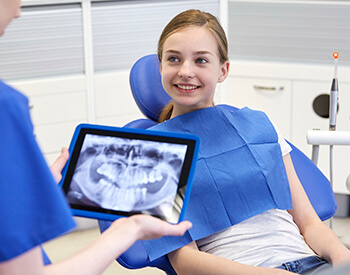 Dental technology is constantly evolving as the years go by, making care that much more comfortable, speedy, and accurate for patients of all ages. Here in San Antonio, Dr. Joseph Noble is proud to follow this trend by outfitting his office with modern tools and techniques that are sure to elevate your treatment experience. Our team looks providing to providing you with the quality dental work you deserve! Contact us today to schedule your first appointment, or if you have any questions we can answer for you.
Intraoral Cameras
Intraoral cameras are a very helpful diagnostic tool, providing an up-close-and-personal look of smiles for patients who want to become a more informed partner in their oral healthcare. The camera-tipped wand fits comfortably in the mouth, and highly detailed images are instantly transferred to a conveniently placed monitor nearby. With this visual aid, Dr. Noble can clearly point out areas of damage or decay, explain the effects of certain treatment options, and help you feel more confident than ever about your smile's future.
Digital X-Rays
Here in San Antonio, the days of darkrooms and tedious film development have long since passed. Instead, Dr. Noble is proud to have invested in digital X-ray technology for much-improved results! Now, X-rays of your smile are instantly captured and uploaded to our computer system for easy viewing; our team members can even magnify and color-code them to help patients better understand what they're looking at. Radiation exposure is also greatly decreased with this state-of-the-art method, which makes them safer as well for people of all ages.