Dental Implants – San Antonio
Rebuild Lost Teeth Seamlessly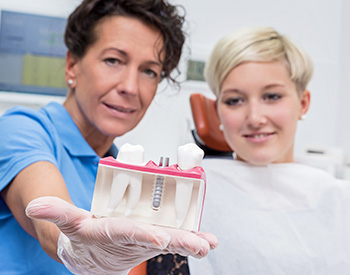 When natural teeth are lost, it can lead to negative consequences for your oral health, your self-confidence, and your overall quality of life. Here in San Antonio, Dr. Joseph Noble wants to help you regain your complete, strong smile right away, and no treatment option is more effective or more long-lasting than dental implants. Contact our practice today to schedule your first appointment, or if you have any questions or concerns for our team members. We're here to help!
Benefits of Dental Implants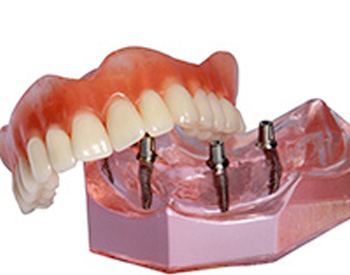 The loss of even one tooth can be seriously detrimental to oral health, so it's essential that you replace your lost tooth or teeth as quickly and effectively as possible. Before you begin any dental plan, you should make sure it's the right option for your individual needs. No treatment is right everyone, and our goal is to ensure our patients receive dentistry services geared toward delivering the healthiest smiles within your schedule and budget. Some of the many benefits of implant supported tooth replacement plans include the following:
Unlike traditional tooth replacement plans that only repair the visible portions of teeth, implant supported restorations repair the lost tooth root and crown, delivering a closer-to-natural end result.
Fully self-supporting, your implant supported crown, bridge, or denture will not need to rely on other teeth or oral structures for support. This ensures you maintain the optimal level of oral health after dental implant tooth replacement.
Once in place, your implant supported restoration can last two decades or longer without the need for repair or replacement. In fact, implant supported restorations have a 90 to 95% success rate after 20 years.
Not only do implant supported restorations look and feel more natural, they also ensure healthy function, especially for advanced denture tooth replacement prosthetics. Traditional dentures only replace about 20% of healthy chewing function, limiting your diet. Implant retained dentures restore 70% or more chewing ability, ensuring you can consume a nutritious and varied diet.
Why are dental implants the best option for replacing my teeth?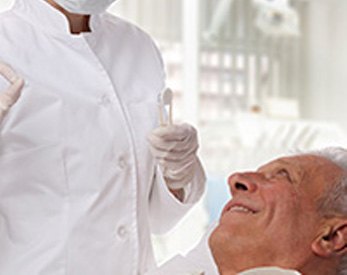 Your tooth is composed of two equally important components. First, there's the white crown that shows when you smile. However, the second piece is much more neglected: the root underneath the gum tissue. While the tooth root goes unseen, its presence is a very important stimulus for your jawbone. Without tooth roots in place, the bone begins to gradually resorb, which can lead to additional tooth loss. So why is this important? Dental implants are the only reconstructive treatment option available today that rebuilds both the crown and root of your tooth, preserving both your oral health and the aesthetic quality of your smile.
Of course, Dr. Noble understands that the budget and time commitment associated with dental implants aren't right for every single patient in need. That's why he'll be sure to review every option with you in full, helping you select the right choice for your personal circumstances.
Indications for Dental Implants
Once we've determined that dental implants are the right choice for you, Dr. Noble will recommend you to a trusted oral specialist in the area; they will handle the surgical placement of your new "tooth roots" (the implants themselves) into the jawbone. Then, after an appropriate amount of healing has passed, patients will return to our practice so that we can personally design and place restorations on top, effectively completing your brand-new teeth. Available options for dental implant restorations include:
Missing One Tooth
Implant-retained dental crowns are ideal for restoring single implants. The tooth-colored addition will blend right in while allowing nearby healthy teeth to stay intact.
Missing Multiple Teeth
If you're missing several teeth in a row, an implant supported fixed bridge may be recommended. Implant bridges are supported by two implant posts, one at each end. For multiple consecutive and nonconsecutive teeth, an implant supported partial denture will be used. These partials are supported by two to four implant posts in most cases.
Missing All Teeth
Implant-retained dentures are a solution for restoring a full row of teeth at once. They're very similar to their traditional counterparts, but the ability to attach in place over four to six implant posts adds much-needed strength and stability. Dr. Noble can either design a fixed (permanent) or removable denture prosthetic.
The Cost of Implant Tooth Replacement
Every patient's dental implant tooth replacement plan will be unique depending on the number and location of missing teeth, and cost can vary dramatically. There are a number of factors that will impact the cost of your treatment plan, including:
Need for preparatory tooth extractions or tissue grafts
The price of dental implant posts themselves depending on size, material, and manufacturer
The cost of surgically placing dental implant posts
The manufacturer and placement of abutment posts that anchor replacement teeth to the implant posts
Finally, there is the cost of your crown, bridge, or denture
During your treatment planning appointment, we'll walk you through the costs associated with each stage of treatment. We will process and file dental insurance claims to make the most of any available benefits, and our knowledgeable team members will work with you to access affordable financing options whenever possible.