November 3, 2023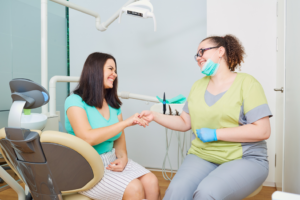 As Thanksgiving approaches, we often find ourselves reflecting on the many things in our lives that we're thankful for—family, friends, good health, and of course, delicious food! But one often-overlooked group of individuals who deserve the utmost praise is dentists; without them, our oral and overall wellness would be in jeopardy. Continue reading below to learn more about a few of the things your trusted dentist does for you, and why you shouldn't hesitate to show appreciation to them this year.
Reason #1. Dentists Keep Your Smile Healthy
There truly is no person more capable of keeping your smile healthy than your dentist. Dentists focus heavily on preventive care, by emphasizing the importance of regular checkups. By identifying potential issues early on, they're able to prevent more serious and costly problems down the road. Dentists also spend years honing their skills and staying up to date with the latest advancements in dental care—and they can pass their expertise and knowledge on to you, allowing you to take better care of your pearly whites at home!
Reason #2. Dentists Prevent Disease
Dentists don't just care for your teeth; they contribute to your overall well-being. The mouth is essentially a gateway to the rest of the body—bacteria that start out there can easily traverse your body and find their way to vital organs if you aren't diligent about oral care. Regular dental checkups can help detect early signs of systematic diseases, such as diabetes and heart disease.
Reason #3. Dentists Can Improve Your Smile's Beauty
Your smile is typically the first thing that people will notice when they see you—so if you have misaligned, cracked, or discolored teeth, it can make you feel reluctant to show off your grin, which in turn can harm your self-esteem. Your dentist can also noticeably improve the aesthetics of your smile, which in turn will make you want to show off your teeth as often as possible! You'll have an easier time navigating social situations, talking with acquaintances, and ultimately experience an unparalleled boost in confidence—and you can't put a price on that!This Thanksgiving, as you gather around the table, take a moment to reflect on the many reasons to be thankful for your dentist—their commitment to your oral health is worth praise every year!
About the Author
Dr. Joseph Noble received his DDS from the University of Texas Health Science Center at San Antonio and is a proud member of several professional organizations, including the American Dental Association and the Texas Dental Association. His practice in San Antonio is thrilled to offer a wide range of preventive, cosmetic, and restorative treatment options. If you have any questions about the blog or you'd like to schedule a visit for you or a loved one, feel free to contact Dr. Noble's team through their website or by telephone for assistance: (210) 342-1001.
Comments Off

on 3 Reasons to Be Grateful for Your Dentist This Thanksgiving
No Comments
No comments yet.
RSS feed for comments on this post.
Sorry, the comment form is closed at this time.