July 2, 2023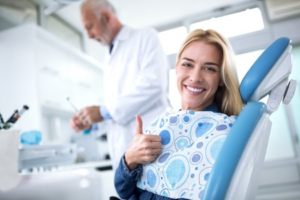 Your smile is one of the first things that people notice about you, so knowing that it looks its whitest and brightest at all times will work wonders for your self-confidence. Luckily, cosmetic dentistry exists for that sole purpose: helping people obtain their dream smiles! However, despite all of the wonderful things you've heard about cosmetic dentistry, you might be wondering if it's safe for you—but you have nothing to worry about at all. Here's more about cosmetic dentistry, why it's perfectly safe, and what it can do for your smile!
Is Cosmetic Dentistry Safe?
Cosmetic dentistry can enrich the look, and in many cases, the feel of your smile. And thanks to advancements in modern technology, these procedures are now easier and safer to carry out, and more effective than ever before!
Dentists are well past the point of having to apply seemingly random ingredients and mixtures to your teeth. These days, they're equipped with top-of-the-line tools and professional-grade materials that won't harm you at all. Dentists will also only perform cosmetic dentistry on patients who qualify for it —but most patients are eligible following an oral health screening. If there is some type of issue preventing you from receiving treatment, you and your dentist can work together to resolve it before undergoing cosmetic work.
The Benefits of Receiving Cosmetic Treatment
There are many reasons for wanting cosmetic treatment, but it generally boils down to wanting to improve the look of your smile. That said, there are other benefits to receiving cosmetic dentistry that shouldn't be ignored!
For instance, many patients become extra motivated to take care of their new smiles after receiving cosmetic treatment, so they're more diligent about their oral hygiene. Visiting the dentist for cosmetic treatment also allows your dentist to inspect your mouth and ensure that there aren't any underlying, non-superficial issues. And in some cases, certain cosmetic procedures can offer increased oral functionality by addressing bite problems or damaged teeth. The bottom line is that when you opt for cosmetic dentistry, you walk away with a better-looking and better-feeling set of teeth!
Common Cosmetic Treatment Options
There are many cosmetic treatment options available, but a few of the most common ones include:
Teeth whitening (in-office and at-home kits)
Porcelain veneers
Metal-free restorations
Direct bonding
While it will depend on your individual needs, many of these options are widely available, affordable, and produce dazzling results. You don't have to settle for an unsatisfactory smile; treatment options are readily available, and they're proven to be safe. Talk with your dentist to see if you're ready to improve your smile and reap all the benefits that a dazzling set of pearly whites has to offer!
About the Author
A San Antonio native himself, Dr. Joseph Noble received his DDS from the University of Texas Health Science Center at San Antonio and has proudly served patients and families in his hometown for several years. His practice is excited to offer a wide range of treatment options including various cosmetic services. If you have any questions about the blog or you'd like to schedule an appointment, feel free to contact the practice online or over the phone for additional information: (210) 342-1001.
Comments Off

on Wondering If Cosmetic Dentistry Is Safe? You Have Nothing to Fear!
No Comments
No comments yet.
RSS feed for comments on this post.
Sorry, the comment form is closed at this time.