March 26, 2023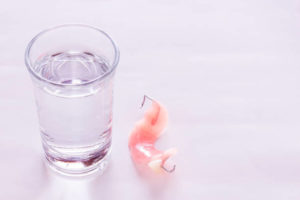 Your dentures can't get cavities, but that doesn't mean they don't need regular cleaning. Brushing removes food particles and plaque to keep your new set of teeth looking their best; however, your toothbrush isn't enough. Dental professionals also recommend removing your dentures at night and placing them in a soaking solution, but is it really necessary? Yes! Here's why you shouldn't forget to soak your dentures before heading to bed.
Your Gums Need a Break
Dentures restrict blood circulation to your gums. If the soft tissues aren't given time to get the nutrients they need, they can become sore and inflamed. You can even develop infections that can harm your health. Placing your dentures in an overnight solution gives your gums a break to recuperate for the next day.
Keep Odors Under Control
Dentures have a reputation for having an unpleasant odor, but they aren't supposed to stink. An overgrowth of bacteria is the source of the smell.
Brushing removes food debris and plaque that can lead to odors, but your toothbrush can't reach everywhere. A soaking solution will kill any bacteria left behind by brushing to keep your breath fresh.
Promote the Lifespan of Your Denture
A traditional denture lasts for 5 to 7 years before needing to be replaced. Proper care and maintenance are vital for getting the most from your investment. Keeping your pearly whites clean removes bacteria that can weaken your denture over time. Besides caring for your dentures at home, visit your dentist regularly for the necessary adjustments. You'll maintain a snug fit and ensure your dentures last for years. They'll also clean and polish your teeth to keep them looking their best.
Protect Your Denture
Your denture must be kept moist when it's not in your mouth. It can warp or break if it gets too dry. A soaking solution will keep your denture moist and your teeth in a safe place while you get some shuteye.
Support Your General Health
Your oral and general health are closely entwined. Certain dental issues can increase your risk of health problems. Some oral bacteria are linked to respiratory illnesses and other health issues. Soaking your dentures is an easy way to keep your mouth and body healthy.
Although no one wants to be caught without their teeth, get in the habit of taking your dentures out before heading to bed. You can purchase an effective soaking solution over-the-counter. Use it according to the manufacturer's instructions on the packaging.
Don't forget to rinse your dentures with cool water before putting them back in your mouth. Your smile will be sparkling clean to look your best.
About Dr. Joseph Noble
Dr. Noble earned his dental degree from the University of Texas Health Science Center and has regularly pursued continuing education in many specialties, like restorative dentistry. He is a proud member of many professional organizations, like the American Dental Association. Request an appointment through our website or call (210) 880-0433.
Comments Off

on Don't Forget to Soak Your Dentures
No Comments
No comments yet.
RSS feed for comments on this post.
Sorry, the comment form is closed at this time.