November 8, 2022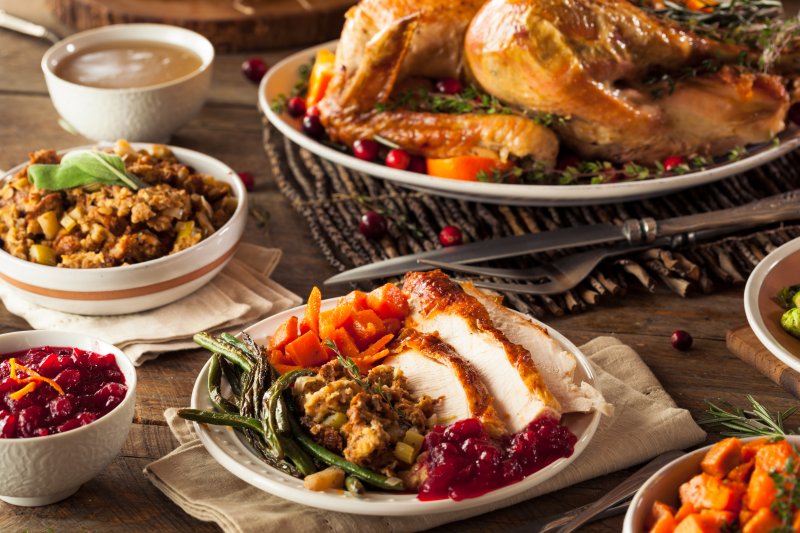 Now that it's the holiday season, you know there will be plenty of delicious food to choose from. However, if you've recently started wearing dentures, then you might think that indulging in the usual Thanksgiving meals may be off the table for you. The good news is that you only have to be careful with certain types of foods. Read on to learn which holiday treats you should avoid and those you can enjoy!
Which Holiday Foods Should I Avoid with Dentures?
Although modern dentures are incredibly durable, they can still be susceptible to cracks, chips, or fractures from excessive pressure. To prevent damaging your new pearly whites, be sure to stay clear of the following foods:
Hard nuts or almonds
Tough meats, like porkchop or steak
Popcorn
Crunchy candies
Sticky meals, like pecan pie
8 Holiday Treats That Are Safe with Dentures
You won't be able to munch on every kind of food with dentures, but the number of items you can enjoy is much lengthier. Here are several meals that you can comfortably eat with your restorations:
Cooked vegetables
Fruits, like fresh berries and seedless grapes
Soft foods, like mashed potatoes
Green bean casserole (with no nuts)
Lean protein, like turkey and chicken
Dinner rolls
Pumpkin pie
Ice cream
Helpful Tips for Eating Your Meals During the Holidays
The first step to enjoying your meals during the holiday season is knowing which foods you can fill your dish with. Secondly, you'll want to practice certain measures to improve your dining experience. When having a meal, try cutting your food into smaller portions. This will keep you from needing to chew excessively, which can usually be difficult with dentures. Be sure to also be cautious with hot beverages, as your restorations won't have nerves to assess temperatures properly. You'll need to chew your food evenly on both sides of your mouth, as this will keep your new teeth from shifting or knocking out of place.
Just because you're wearing dentures doesn't mean you'll have to completely hold off on your favorite meals this holiday season. Keep these tips in mind, and you should have a comfortable and enjoyable dinner with friends and loved ones!
About the Author
Dr. Joseph H. Noble earned his dental doctorate from the University of Texas Health Science Center in San Antonio. He has over two decades of experience and is also a member of several prominent organizations like the San Antonio District Dental Society and the American Dental Association. He provides a wide variety of high-quality services, including dentures. If you'd like to schedule an appointment, visit his website or call him at 210-342-1001.
Comments Off

on Watch Out! Holiday Meals to Avoid with Dentures
No Comments
No comments yet.
RSS feed for comments on this post.
Sorry, the comment form is closed at this time.