July 12, 2022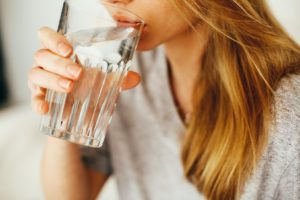 Summer is the perfect time to head outdoors to soak up some vitamin D as you make the most of the warmer weather. However, higher temperatures can quickly lead to dehydration if you aren't careful. While you know it is bad for your health, not drinking enough water can have complications for your smile, too. Feeling dizzy or lightheaded aren't the only concerns. You can have an increased risk of tooth decay, gum disease, and other preventable issues if you aren't drinking sufficient amounts of water. Here are 5 sneaking signs of dehydration to watch out for while enjoying the sunshine.
1. Bad Breath
Everyone experiences bad breath occasionally, like after eating garlic with lunch. However, it can also be a sign of dehydration because your body won't produce enough saliva. If your mouth feels dry, there is a decrease in saliva. The reduction of the natural cleaning action allows harmful bacteria to multiply quickly.
2. Muscle Spasms or Cramps
If you aren't drinking enough water, your body will be depleted of electrolytes, which are key minerals that are necessary for your nervous system functions. Without the right pH balance in your body, your muscles can feel tight or become painful. In some cases, you may even experience involuntary muscle spasms.
3. Headache
Researchers have found that dehydration can cause the brain tissue to shrink temporarily, which can result in pain. Headaches are a common symptom of mild-to-moderate dehydration.
4. Fatigue
Your energy levels throughout the day rely on proper hydration. Adequate water is necessary for your body to distribute nutrients to cells, allowing your organs to function correctly. If you aren't getting enough water, you may feel sluggish.
5. Dark Urine
The color of your urine is a good indicator of your hydration. If it is dark, you need to drink more water. The paler your urine, the more hydrated you are. It's a quick and easy way to monitor whether you're drinking the right amount of water.
Tips for Preventing Dehydration
You can protect your mouth and body from the dangers of dehydration by keeping a few tips in mind, including:
Drink at least 6 to 8 glasses of water daily. Increase the amount if you are outdoors or active.
Consume 3 to 8 fluid ounces of H2O every 15 to 20 minutes if you're involved in any strenuous activities.
Avoid caffeine, sugar, coffee, and alcohol, which can cause dehydration.
Eat plenty of fruits and vegetables that have high amounts of water.
If you experience any symptoms of dehydration, reach for a glass of water.
Don't let dehydration ruin your summer plans. Make a conscious effort to drink plenty of water to feel your best as you enjoy the warmer weather and blue sky.
About Dr. Joseph Noble
Dr. Noble earned his dental degree from the University of Texas Health Science Center in San Antonio and regularly continues his education to provide modern services. He is a proud member of various professional organizations, including the American Dental Association and Texas Dental Association. If you need a trusted dentist, contact our office today to request your consultation.
Comments Off

on 5 Sneaky Signs of Dehydration
No Comments
No comments yet.
RSS feed for comments on this post.
Sorry, the comment form is closed at this time.