June 21, 2022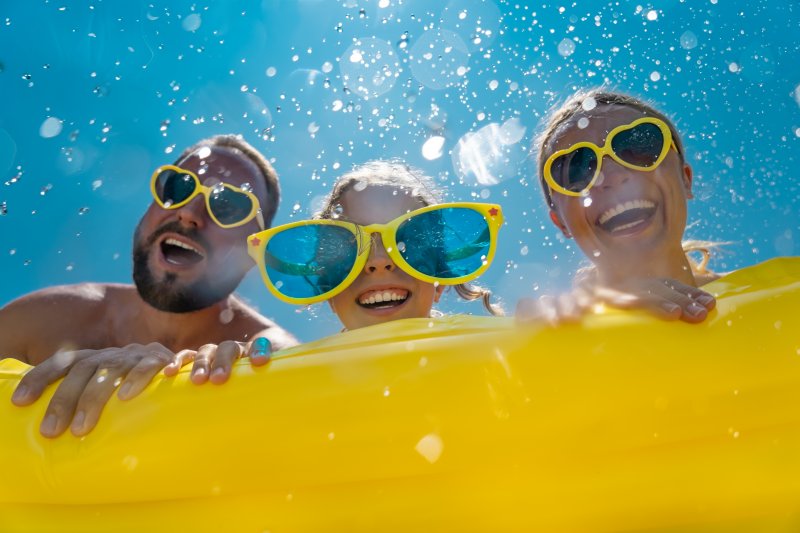 If you were eager for summer vacation before, the current heatwave has likely made you even more so. Right now, many just want to jump in the pool, tan by the beach, and drink some Piña coladas. What else are you supposed to do when temperatures are so high? However, you should visit the dentist before starting your fun in the sun. It turns out that doing so will make this season better than ever for you. To learn more, here are three reasons to visit your dentist pre-vacation.
Prevent Summer Dental Damage
Among other things, people like to enjoy tasty foods and drinks while traveling on vacation. After all, hotel restaurants often have specialties you can't get elsewhere.
Unfortunately, these treats can take a serious toll on dental health. Whether you're having cocktails, ice cream, or other fares, many summer foods have sugar that erodes tooth enamel and causes cavities.
If you visit your dentist beforehand, you can protect your teeth from these items. More specifically, your dentist will keep dental issues from getting worse due to vacation eating. They'll also remind you to practice proper oral care on your trip!
Travel with a Vacation-Ready Smile
Chances are you want good vacation photos once summer has come and gone. That won't be possible, though, if your pictures feature yellow, crooked, or infected teeth. Rather than help you remember fun times, your album will remind you that your smile needs work.
That said, consider seeing your dentist for teeth cleaning before heading out. Treatment will result in a smile that's whiter, brighter, and more beautiful. It'll also give you that clean and healthy feeling!
Make Use of Your Flexible Schedule
Working adults get time off over the summer, and kids can put aside schoolwork until the fall semester. As such, both groups have more flexible schedules during these months.
One way to use that flexibility is to book an appointment with your local dentist. It shouldn't be hard, and you likely won't have to compete for your preferred time slot. Parents, in particular, can have their kids get treatment before the back-to-school rush in August and September.
Seeing your dentist is always a wise choice. Still, you can see that a visit before a summer vacation has many rewards!
About the Author
Dr. Joseph Noble is a dentist based in San Antonio, TX, having earned his DDS from the city's University of Texas Health Science Center. His specialties are preventive, cosmetic, and restorative dentistry, as well as emergency dental treatments. He keeps updated on the latest dental trends through his membership in the American Dental Association, Texas Dental Association, and San Antonio District Dental Society. Dr. Noble currently practices at his self-titled clinic and is reachable at his website or by phone at (210)-342-1001.
Comments Off

on 3 Big Reasons to See Your Dentist Before Summer Vacation
No Comments
No comments yet.
RSS feed for comments on this post.
Sorry, the comment form is closed at this time.