September 4, 2021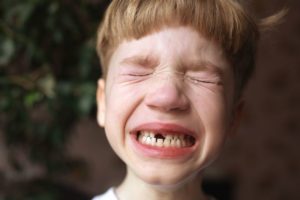 Your friends have asked you many times to play basketball, and today you finally decided to give it a shot. You are having a lot of fun, but late in the game your buddy's elbow accidentally hits you in the mouth. Everyone is looking at you with a concerned expression – your front tooth is on the ground!
All that matters now is what you can do to save your tooth. There is no time to waste – read on to learn the steps you need to take if you are ever faced with a knocked-out tooth.
Pick Up the Tooth by the Crown, Not the Root
Locate your tooth immediately and be careful when you pick it up to only handle the crown aka chewing surface. Do not touch the root.
If Your Tooth is Dirty, Rinse It with Water
Use only water to gently rinse off any dirt. Be sure not to use any soap or chemicals. Also, do not scrub or dry the tooth and don't wrap it in a tissue or cloth.
Reposition Your Tooth in the Socket ASAP
Try to put your tooth back into its socket immediately after you lose it. Gently push it in by handling the crown or position it above the socket and close your mouth slowly. Hold the tooth in place with your fingers or by gently biting down.
Keep Your Tooth Moist
The tooth must stay moist to preserve the root surface cells, preferably remaining in the socket. You can put it in your mouth next to your cheek, in an emergency tooth preservation kit, or even in cold, whole milk. If you regularly play sports, ask your dentist about purchasing one of these kits.
Do not use water since root surface cells cannot tolerate it for extended periods of time. Keeping the tooth in your own saliva is ideal.
Head to Your Dentist Quickly
Bring your tooth with you to your emergency appointment. It's best to see your dentist within 30 minutes of the injury, but it is possible to save a tooth even if it has been outside the mouth for more than an hour.
A tooth lost due to an accident has a 90 percent chance of being saved if the proper procedure is followed. While dealing with a knocked-out tooth is never ideal, by having a plan in place you can remain calm during a stressful situation.
About the Author
Dr. Joseph Noble is a San Antonio native who has been working on behalf of smiles for more than 20 years. His favorite part of being a dentist is being able to care for families and seeing the children grow up. Dr. Noble is a proud father of three with his wife, Amy. He is a member of several professional affiliations, including the American Dental Association. To learn more about how he can help during a dental emergency or to get information on other dental services, visit his website or call (210) 342-1001.
Comments Off

on When Your Tooth Gets Knocked Out, It's Time for Action
No Comments
No comments yet.
RSS feed for comments on this post.
Sorry, the comment form is closed at this time.