July 30, 2021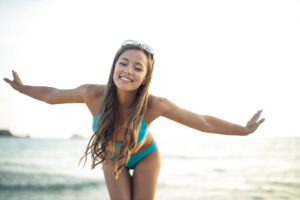 Summer is finally here! Whether you plan to pack your bags to take your dream vacation or work on your tan while laying out by the pool, the last thing you expect to interrupt your day is a dental emergency. Although you may believe you're not at risk, 1 in 6 Americans has one annually. While there's never a good time for an oral health issue to occur, a toothache or a chipped tooth can quickly ruin your summer plans. You can ensure nothing stands in your way of soaking up the sun by using 4 tips to prevent dental emergencies.
1. Visit your dentist for a cleaning and checkup.
Not all dental emergencies are caused by trauma. In fact, many result from an untreated issue that has been lingering in the mouth, like a cavity. You can ensure there aren't any dental concerns brewing by visiting your dentist. They'll remove any plaque and tartar accumulations that can lead to a preventable problem, like gum disease. They will also closely examine your smile to check for any red flags that might indicate a dental emergency is in your future. Your dentist will provide the treatment you need to ensure your smile is healthy.
2. Practice pool safety.
Dental emergencies can take many forms and occur for several reasons; however, dentists see an increase in pool-related incidents during the warmer months. Slipping on a wet deck or bumping your mouth on the ledge of a pool can result in a chipped or broken tooth. You can avoid spending a day in the dental chair by practicing pool safety, such as not diving into shallow water.
3. Wear an athletic mouthguard.
The weather is perfect for a friendly game of soccer or rollerblading down the coastline, but make sure you're wearing an athletic mouthguard. The custom-made appliance provides a protective barrier for your teeth, gums, oral tissues, and jaw if there's an impact to the mouth to lessen the risk of serious dental damage. You wouldn't play football without a helmet, so don't leave your smile unprotected when participating in summer sports.
4. Don't forget to brush and floss.
Although you'll be spending more time outdoors, don't forget about your oral hygiene routine. Brush your teeth in the morning and at night using a soft-bristled toothbrush and nonabrasive toothpaste. Clean all surfaces of your teeth for at least 2 minutes each session. Your dentist also recommends using high-quality dental floss to clean between each tooth at least once per day.
Enjoy a healthy summer smile.
You can ensure nothing prevents you from enjoying summer to the fullest. A proactive approach to your smile will help you avoid an unplanned trip to your dentist.
About Dr. Joseph Noble
Dr. Noble earned his dental degree at the University of Texas Health Science Center. He has completed advanced training in many specialties to treat complex issues, like dental emergencies. As a member of the American Dental Association, you can feel confident your smile is in good hands. Contact our office today for an appointment.
Comments Off

on 4 Tips to Prevent Summer Dental Emergencies
No Comments
No comments yet.
RSS feed for comments on this post.
Sorry, the comment form is closed at this time.