April 10, 2021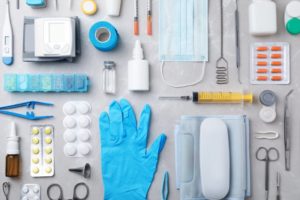 The most important thing to know about dental emergencies is that they rarely occur when they're expected. To further complicate matters, even if you maintain the best dental care practices, it doesn't provide complete immunity from a dental emergency happening. To be on the safe side, it's wise to keep a dental emergency kit handy and fully stocked. Keep reading to find out what should be in it.
In any Situation, Do This
No matter what type of dental emergency you may encounter, it's critical that you keep your cool as best as possible. As tempting as it may be, resist the urge to panic. Instead, focus on assessing what has happened, gathering any dislodged pieces, stopping any bleeding and temporarily relieving the pain. Most importantly, reach out to a dentist to request an emergency visit.
What Should be in Your Kit
Be sure to include the following items in your emergency dental kit:
Medical-grade gloves
Gloves are especially useful to have when there is any bleeding. While latex gloves are the most popular kind, vinyl can be used if you have a latex allergy.
Dental mirror
If you have a wound that is difficult to see – maybe in the dark corners of your mouth, a dental mirror is priceless to have on hand. You can buy one with an attached light or purchase a separate small flashlight for your kit.
Cotton balls and gauze pads
It's always a good idea to keep some cotton balls and gauze pads on hand. They are lifesavers if you have a cheek injury or experience oral bleeding. When not in use, they should be neatly stored and kept in an area where they remain clean.
Dental wax
Dental wax is a must to keep around if anyone in your family wears braces, as it can be used to temporarily secure a dislodged bracket or protect the cheeks from a damaged wire. The sticky wax can also be used to temporarily reattach a dislodged tooth.
Orabase
If you have an oral ulcer or canker sore, Orabase can be used to decrease the sensitivity. The pasty substance contains benzocaine, which is a local numbing agent.
Dental floss
Food stuck between your teeth can sometimes cause noticeable discomfort. Therefore, you should always keep dental floss in your emergency kit to gently clean between your teeth.
Ice pack
When a toothache strikes or there is an injury to the face, you can expect some swelling. Keep an ice pack in the freezer so it will be ready when you need it.
Ibuprofen
For temporary pain relief, ibuprofen is your best choice. While you're likely familiar with the notable names, Advil, Motrin and Aleve, you can also purchase a generic brand to save a few dollars.
While the above items should never be considered as a substitute for receiving emergency dental care, by having the right tools and a plan of action, you can more effectively respond to a sudden situation. Therefore, you can achieve a measure of comfort until you can receive the dental care you need.
About the Author
Dr. Joseph H. Noble is a graduate of the University of Texas Health Science Center at San Antonio. So he can stay abreast of the latest changes in dentistry, he maintains professional affiliation with the Texas Dental Association and the San Antonio District Dental Society. Dr. Noble treats dental emergencies at his private practice, and he can be reached for more information through his website.
Comments Off

on The Main Items That Should be in Your Dental Emergency Kit
No Comments
No comments yet.
RSS feed for comments on this post.
Sorry, the comment form is closed at this time.