March 12, 2021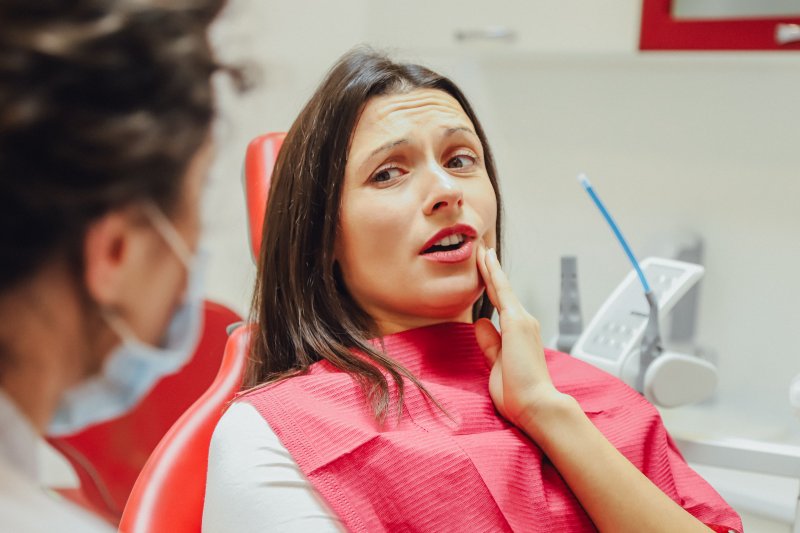 For a child, discovering that you have a loose tooth is exciting. However, when you are an adult, it is much different. You know that if you lose your tooth, you won't have a new one following beneath it. There are many reasons why you may have a loose tooth, including periodontal disease, tooth decay, and injuries to the mouth. The most important thing is to act quickly! Continue reading to learn which steps you should take if you have a loose tooth.
You should give your dentist a call in order to schedule an emergency visit as soon as you can. The longer you go with the loose tooth, the more that you reduce your dentist's chances of being able to save it. You should try to receive treatment within 12 to 24 hours in order to maximize the probability of restoring your tooth to health.
Don't Wiggle It
As tempting as it is, don't be wiggling around your loose tooth with your tongue. Playing with it will only make the issue worse. Do not chew on it or touch it either. Even if you think that you will need to have the tooth extracted, you shouldn't try to pull it out yourself. If you do, you are increasing your risk for infection.
Clean the Area
Don't brush your wiggly tooth because you could end up accidentally making it more loose. However, you still want to make sure that the area is clean. Instead of brushing, rinse the area with warm water. This will help to wash away particles from the loose tooth and control bacterial buildup in the mouth.
Eat Carefully
Just because you have a loose tooth doesn't mean that you cannot eat. However, you should still be careful by avoiding chewing on that side of your mouth. Instead, stick to things like scrambled eggs, mashed potatoes, and applesauce. Stay away from sticky, chewy, and hard foods.
Don't Touch the Root of Your Tooth
If your loose tooth ends up falling out for one reason or another, you should only touch it by the crown. You don't want to cause damage to the root of your tooth. You should gently rinse away any dirt and debris with water and place the tooth back into the socket. If you are unable to keep it there, place it in your cheek or in a glass of milk. You will need to get to the dentist within an hour in order to increase the chances of saving your tooth.
It is essential that you see your dentist right away if you are dealing with a loose tooth. When you act quickly and get to the dental practice as soon as you can, you are increasing the chances of your dentist restoring your smile to health.
About the Author
Dr. Joseph Noble is an experienced dentist who has been working in the field for 20 years. He earned his Doctor of Dental Surgery from the University of Texas Health Science Center in San Antonio. Currently, he is involved with the American Dental Association, Texas Dental Association, and several others. If you have a loose tooth, Dr. Noble would be happy to help. For more information or to schedule an appointment at his office in San Antonio, visit his website or call (210) 342-1001.
Comments Off

on My Adult Tooth Is Loose! What Should I Do?
No Comments
No comments yet.
RSS feed for comments on this post.
Sorry, the comment form is closed at this time.