December 28, 2020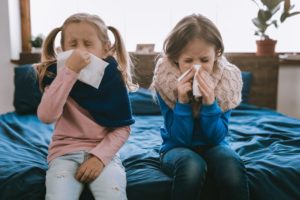 Because of the omnipresent threat of Covid-19, the last thing you might be worried about this winter is your child catching a cold or the flu. However, neither of these illnesses are pleasant. If your son or daughter gets sick, you'll naturally focus on ensuring they make a speedy recovery. Unfortunately, between the frequent coughing and sneezing, many parents unintentionally expose their kids' teeth to numerous risks in the process. Continue reading as a children's dentist in Castle Hills gives advice on keeping your child's teeth healthy during cold and flu season.
Keep Up with Oral Hygiene
Between fizzy, acidic beverages that soothe their tummy and sugary cough drops that alleviate a sore throat, many quintessential sick-day items aren't actually all that mouth-healthy. So, while it might be tempting to let your little one ease up on their brushing and flossing routine, it's imperative that you do not. If your child would rather stay in their room than walk to the bathroom sink, then at least bring them a cup of water so they can rinse out their mouth.
Have Them Gargle with Salt & Water (If They Can)
Your child's mouth is home to numerous germs, particularly when they are sick. Luckily, you can eliminate the bad bacteria by having them gargle with a solution of salt dissolved in a glass of water. Gargling with this solution once a day can not only reduce or prevent infection, but it can relieve a sore throat.
Make Sure They Drink Plenty of Water
As a result of all of the sweating, sneezing, and running a fever, it's all too easy for your son or daughter to get dehydrated when they're sick. Additionally, a stuffed-up nose that forces them to breathe through their mouth can cause dry mouth. Staying hydrated is absolutely essential in ensuring your little one makes a quick recovery. Try to keep a full glass by their bedside while limiting sugary drinks like juices.
Get Them a New Toothbrush
A damp toothbrush is the ideal breeding ground for dangerous bacteria. It can even harbor germs long after your child has recovered. While they might not succumb to their sickness again, other members of your household certainly can, especially if they share a bathroom. So, you should replace your child's toothbrush as soon as possible after they're well again.
This year, it's more important than ever before to keep your child's oral and general health in great shape, especially during cold and flu season. Fortunately, you can use these tips to make sure their smile remains healthy well into the new year!
About the Author
For more than 20 years, Dr. Joseph H. Noble has been providing complete dental services for families in the San Antonio community. He is a father, so he understands the compassionate care young smiles need. As a member of the American Dental Association and the Texas Dental Association, you can feel confident that Dr. Noble is the right person to care for your child's oral health. To learn more about keeping their growing smile healthy, contact our office today.
Comments Off

on How to Keep Your Child's Teeth Healthy During Cold and Flu Season
No Comments
No comments yet.
RSS feed for comments on this post.
Sorry, the comment form is closed at this time.