November 10, 2020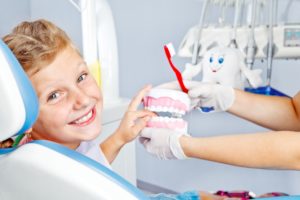 Every month, you invest in your child's oral health by paying a premium for a dental insurance policy. Your children's dental insurance coverage allows them to get the routine services they need to develop and maintain a healthy smile. Unfortunately, your family has spent more time at home this year to help combat the spread of COVID. It's likely your child has several benefits remaining they are about to lose. When the clock strikes midnight on December 31st, their policy will expire. It's not too late to invest in your child's future through a confident smile.
Power of Preventive Dentistry
Your child's primary teeth are only in place for a few short years before they fall out. Their teeth and gums also rely on the care of a children's dentist in Castle Hills. It's best to schedule an appointment at least twice a year for a cleaning and checkup. Their dental policy covers the preventive services they need 100%. Your child can see their dentist every 6 months without worrying about a large bill. In fact, you'll actually lower their long-term cost for care because every $1 spent on prevention can save as much as $50 on restorative dentistry.
If your child hasn't had their second hygiene visit because their dentist has been closed, there's still time for an appointment before the end of the year. Dental offices have reopened their doors and revamped their safety protocols to provide your family with the care they need.
Invest in a Healthy Smile
Besides preventive services, your child's coverage also includes restorative services. After reaching their annual deductible, their policy can cover as much as 80% of the cost until hitting your yearly limit. This can help offset the amount you'll pay for common procedures, like fillings.
Unfortunately, their coverage won't last forever. At the end of the year, their policy will expire. You won't be reimbursed for anything that isn't used, and it won't carry over for accumulation. With less than 3% of Americans meeting their annual limits, there are likely several benefits remaining that could be used to help your child achieve the healthy, beautiful smile they deserve.
Maximize Dental Coverage
Your insurance carrier will recommend you choose an in-network dentist in Castle Hills because they have pre-negotiated rates. You can still choose any dentist who accepts their policy to enjoy more options for personalized treatments. You'll need to pay the difference between the policy's allowable amounts and the dentist's fees.
Don't wait until it's too late to schedule an appointment. You can ensure your child starts the new year with a healthy smile that didn't cost an arm and a leg.
About Dr. Joseph Noble
For over 20 years, Dr. Noble has been providing complete dental services for the entire family. He is a father, so he understands the compassionate care young smiles need. As a member of the American Dental Association and the Texas Dental Association, you can feel confident in the decision you're making for their oral health. If it's time for their next cleaning and checkup, contact our office today.
Comments Off

on Use Your Child's Dental Insurance Before It Expires
No Comments
No comments yet.
RSS feed for comments on this post.
Sorry, the comment form is closed at this time.