October 3, 2020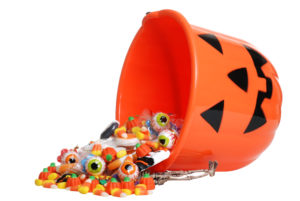 Halloween is right around the corner once again! While you may already be planning your spooky costume, now is an ideal time to also think about how to keep your sweet tooth at bay this year. As a holiday filled with sugary treats, Halloween can be a downright frightening time for your oral health. However, with a little planning – and some self-control – it is possible to navigate the fall festivities without dramatically increasing your risk of cavities. Below you will find 5 tips from a dentist on how to maintain a healthy smile this Halloween.
#1: Avoid Snacking Throughout Day
Snacking on Halloween candy throughout the day gives the bacteria in your mouth more opportunities to feast on sugar and produce the harmful acids that weaken enamel. While this may take a bit of discipline, try to only eat your candy alongside or shortly after a meal. The body produces more saliva when eating a full meal, which helps clean the mouth by rinsing away bits of food and neutralizing harmful acids.
#2: Choose Chocolate Over Sticky Candies
Avoid consuming too many sticky sweets like caramel, gummy worms and taffy. These candies all cling to teeth, making it harder for saliva to wash them away. The longer sugar stays in your mouth, the higher the risk of tooth decay. Treats that dissolve more rapidly in your mouth, such as chocolate or powdery candies, are slightly safer for your smile.
#3: Chew Sugar-Free Gum
Chewing sugarless gum after snacking on Halloween candy can help reduce tooth decay by stimulating saliva production. As mentioned above, saliva acts as a natural line of defense for your mouth by washing way harmful bacteria and leftover bits of food. Choosing to chew sugarless gum in place of Halloween candy is an even better way to reduce the risk of cavities.
#4: Donate Your Extra Candy
Put a smile on someone else's face this Halloween by donating your extra candy! Charitable organizations such as Operation Gratitude, which sends candy donations to troops serving overseas, would be delighted help lighten your candy load. In addition, many dentists have holiday take-back programs, through which you can trade your candy for a new toothbrush.
#5: Schedule a Dental Checkup
Finally, do not forget to schedule a checkup with your dentist this spooky season! Regular dental exams and professional cleanings are an important way to maintain a healthy smile all year long. In fact, only a dental professional can remove hardened tartar from your teeth before it causes tooth decay. Biannual trips to the dentist also ensure any small or emerging issues are caught early on before they can develop and worsen.
Don't let this Halloween be a party for scary bacteria in your mouth. Just follow the 5 tips above to help avoid cavities this fall.
About the Author
Dr. Joseph Noble has over two decades of experience helping children and their parents maintain healthy smiles all year round. The San Antonio native offers a full range of preventive dentistry treatment at his private practice, from checkups and cleanings to fluoride treatment and more. For more advice on how to stay cavity-free through Halloween and the upcoming holiday season, visit Dr. Noble's website today or call 210-342-1001.
Comments Off

on 5 Tips to Keep Your Sweet Tooth at Bay this Halloween
No Comments
No comments yet.
RSS feed for comments on this post.
Sorry, the comment form is closed at this time.