June 19, 2020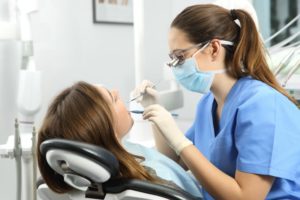 Do you want to avoid getting painful cavities and gum disease? Then it helps to work with your family dentist in Castle Hills. Together, you can keep your oral health on the right track and minimize the risk of problems like tooth decay. One way to work with your dentist is by actively participating in your appointment and asking questions. Here are six questions you should be asking your dentist at every checkup.
How Can I Improve My Oral Health at Home?
If your dentist uncovers a problem in your teeth or gums, they will come up with a treatment plan to get your smile back on the right track. Oftentimes, though, you can avoid these issues altogether by adhering to an excellent oral health plan between appointments. Ask your dental team about recommended hygiene products or more effective cleaning techniques. They should be more than happy to help.
Is My Chart Up to Date?
Your dental team needs to have as much information about your health status as possible in order to provide you with the best possible care and avoid treatment complications. Mention any medications you have started or stopped taking since your last appointment.
Is There Anything I Should Tell My Primary Care Doctor About?
Your oral health is directly connected to your general health. If there's anything wrong with your mouth, your family doctor needs to know. For example, gum disease can increase your risk of other health issues like type 2 diabetes, heart disease, and Alzheimer's. Asking your dentist if you should tell your primary care physician about your oral health is the best way to ensure every member of your medical team is on the same page.
Do I Have Any Bumps, Sores, or Bleeding in My Mouth?
If your gums start bleeding while the hygienist is cleaning your teeth, it's very likely that you have gingivitis, the first stage of gum disease. Bumps or sores in your mouth could point to an infection or even oral cancer. If you've noticed anything strange happening in your mouth lately, be sure to ask what it could mean.
Is My Sensitivity or Pain Normal?
Even something as minute as sensitivity to hot or cold foods and drinks could be a sign of a larger issue. Tooth sensitivity can be caused by a number of factors, such as teeth grinding, jaw clenching, cavities, and gingivitis. If you notice any discomfort in your mouth, however minor, you should let your dentist know.
When Can I Schedule My Next Appointment?
Six months is a long time to wait between appointments, and you might forget about seeing the dentist between now and then. That's why it's much easier to go ahead and book your next checkup before you walk out the door. It's the most effective way to ensure your teeth get cleaned and evaluated twice a year.
By asking your dentist these questions at your appointment, you're taking a proactive role in maintaining excellent oral health. Don't hesitate to ask your dentist anything at all regarding your mouth. They'll be more than happy to help!
About the Author
Dr. Joseph Noble is a family dentist in Castle Hills who has been treating San Antonio smiles for more than 20 years and counting. He earned his doctorate from the University of Texas Health Science Center at San Antonio. His favorite part of his job is getting to know families and seeing them grow up to have happy, healthy smiles. He's happy to answer any questions you may have regarding your oral health. To schedule your next checkup with a dentist who cares, visit Dr. Noble's website.
Comments Off

on 6 Questions You Should Ask Your Dentist at Your Next Checkup
No Comments
No comments yet.
RSS feed for comments on this post.
Sorry, the comment form is closed at this time.