February 11, 2020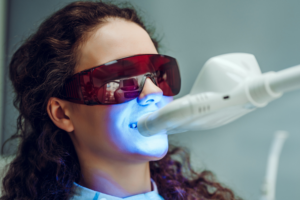 Your smile is influential in your self-esteem and how others view you. If your teeth have lost their luster, teeth whitening in Castle Hills can bring new life to your smile. Professional treatments are an effective solution to get your teeth several shades whiter. While they can provide drastic improvement for several patients, whitening treatments don't work for everyone. If you aren't a candidate for teeth whitening, you aren't out of options. Here's what you need to know to get the bright, white smile you deserve.
Why Doesn't Teeth Whitening Work for Everyone?
As you age, it's natural for your teeth to darken because your enamel thins, making more of your yellowish dentin become visible. Not to mention, genetics also impacts the color of your teeth. Besides age and your genetic makeup, there are several other factors that influence the color of your teeth, which will determine if you're a candidate for the treatment.
Believe it or not, there are two ways your teeth can discolor: extrinsically and intrinsically. Strains that occur from external factors, like smoking, coffee, or berries are called extrinsic. They can be resolved with a whitening treatment.
Intrinsic stains occur from the inside out. Often, they result from trauma to the tooth, certain medications, or too much fluoride. Unfortunately, these stains are a little more difficult to treat. Whitening treatments can have very little effect on them.
Besides the type of stains, the condition of your teeth can also impact your candidacy for whitening treatments. If your teeth are damaged, overly sensitive, or severely misaligned, your cosmetic dentist in Castle Hills may advise against it.
What are My Options for a White Smile?
Now, you have more options than ever to get a beautiful smile. Besides traditional in-office treatments, many dentists also offer take-home kits. You can achieve in-office results from the comfort of your own home.
If you aren't a candidate for whitening treatments, you have options to get the results you want, which can include:
Dental Bonding: A composite resin material is customized to match the ideal shade you want and applied over the tooth's surface to hide discoloration.
Veneers: A thin shell is bonded to the front surface of a tooth to cover stains. It can also improve its overall size, shape, and proportion.
All-Ceramic Crown: A crown is a custom-made cap that covers the entire surface of a tooth above the gum line. Since it requires you to permanently alter the tooth, it's only recommended when there aren't other solutions.
Get a Bright Smile Today
You can reveal brighter teeth with the help of your cosmetic dentist. They'll create the customized plan you need to restore a vibrant smile.
About Dr. Joseph Noble
Dr. Joseph Noble has been improving smiles for over 20 years. Besides general dentistry, he's undergone continuing education courses to provide many areas of specialty, like cosmetic dentistry. He uses the latest advancements to create healthy, beautiful smiles. Contact our office today to schedule your consultation to combat tooth discoloration.
Comments Off

on Does Teeth Whitening Work for Everyone?
No Comments
No comments yet.
RSS feed for comments on this post.
Sorry, the comment form is closed at this time.