October 22, 2019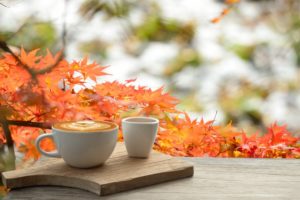 Since fall is here, it's no surprise that you'll be drinking your fair share of hot drinks to help tackle the brisk outside breeze. Most people think of coffee and hot chocolate as horrible for your teeth and oral health. However, when prepared a certain way, you can consume them without worrying about developing a cavity or severely stained teeth. A family dentist in Castle Hills offers three ways you can warm yourself up while maintaining a healthy and happy smile.
Drink Green and Herbal Teas
There's nothing more comforting than the thought of a hot cup of English breakfast tea with a slice of orange and some honey. The only thing that's stopping you from making it is the looming fact that black tea is packed full of tannins, a compound known to stain teeth. These attach themselves to bacteria found in plaque that coat your teeth, creating a brown or yellow blanket of discoloration that distracts from your smile over time.
Instead of black teas, try substituting green or herbal. These are packed with antioxidants and fight off early signs of gum disease like inflammation. They also contain fewer tannins, meaning they won't have a grave impact on the brightness of your teeth for your upcoming holiday family photos. If you just can't stand to abandon your winter black tea, try brushing before you drink it. That way, the tannins will have little to no plaque to bind to.
Make Homemade Hot Chocolate
There's no getting around the fact that prepackaged, powdered hot chocolate is packed full of cavity-causing sugar. The next snow day that you and your little ones remain bunkered up in the house, try making your own homemade hot chocolate that has sugar alternatives instead of the actual thing. Sweeteners like Splenda and stevia don't have the same impact on your teeth as real sugar, meaning that you can drink the hot chocolate without a looming threat of a developing cavity. You can even try this easy oral health-conscious minty hot cocoa recipe!
Drink Coffee Without the Sugary Additions
Coffee can sometimes get a bad rap, and not just in the dental world. Known for being super rich in tannins, stumping growth, and as a much-needed crutch to make it through yourworkday, some people try to avoid it at all costs. In a study published in the Journal of Conservative Dentistry in 2009, researchers found that this infamous (but so very delicious) fall drink actually contains vital antioxidants that protect the surface of teeth from streptococcus mutans, the bacteria known to cause tooth decay.
The problem is, in order to reap all the oral health benefits of roasted coffee beans, you'll need to ditch the sugary additions like syrups. If you're not a fan of the natural bitter taste of coffee, try putting some milk or cream in it. White dairy helps dilute the color and contains minerals that help strengthen your enamel.
This fall, you don't have to stop drinking all of your favorite beverages because you're scared of the impact they'll have on your pearly whites. As long as you have good oral hygiene, make regular visits to your dentist in Castle Hills, and make mindful substitutions that minimize your sugar consumption, you can rest assured that your teeth will remain healthy and happy.
About the Author
Dr. Joseph Noble has over two decades of dental experience both maintaining and improving his patients' smiles. He looks forward to taking care of patients of all ages and getting to know each family that walks through his door. With thorough and high-quality preventive care, he's able to tackle the small problems before they become more severe. For questions or to schedule a routine checkup and cleaning before the holidays, visit his website or call 210-342-1001.
Comments Off

on 3 Ways to Drink Hot Fall Beverages Without Harming Your Oral Health
No Comments
No comments yet.
RSS feed for comments on this post.
Sorry, the comment form is closed at this time.