December 6, 2018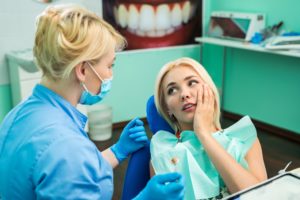 Do you have an upcoming trip? Whether for business or
pleasure, you have plenty of preparations to make before you leave to ensure nothing
unexpected occurs. Despite your best efforts, you cannot prepare for a dental emergency.
Although you may think it will never happen to you, 1 in 6 Americans faces one
every year. There is no worse time for it to happen than when you are away from
home. Do not worry. There are several things you can do to manage the situation
until you can see an emergency dentist.
Dental Emergencies while Traveling
When you have a dental emergency, you may be tempted to wait until you return home to have the issue treated. While it is always best to see your dentist as soon as possible, some situation may allow you to wait; however, others will require you to find a local dental office. There are several things you can do to manage your discomfort while helping to save your tooth.
Toothache
A toothache is a common problem when traveling, especially for those who are flying. The air pressure changes in the plane cause small spaces in your teeth to expand, such as a small crack. This can cause significant discomfort.
Thankfully, the problem often subsides shortly after your plane lands. If the pain lingers, rinse your mouth with water and floss your teeth to ensure nothing is stuck in them. Use an over-the-counter pain reliever to stop your discomfort.
Broken or Cracked Tooth
A broken or cracked tooth must be treated immediately to prevent an infection. While you wait for an appointment with a local dentist, rinse your mouth with salt water and avoid chewing on your tooth. Apply a cold compress to the outside of your mouth to decrease any swelling.
Knocked Out or Dislodged Tooth
To save a tooth that has been knocked out or dislodged from its socket, you must act quickly. If the tooth has only been moved out of position, gently push it back into place and bite on a piece of gauze. If it has been fully knocked out, hold it by the crown and rinse it with water. Do not use any cleaners, scrub it, or dry it. Try to reinsert it back into the socket. If you cannot, place it in a cup of milk.
Prevent Dental Emergencies
Although you cannot fully prevent a dental emergency, you can help to decrease the likeliness of one while you are traveling by visiting your dentist. Schedule a checkup before you leave. Your dentist will evaluate your oral health to look for any issue that may worsen while you are away, like a cavity or small fracture.
Even with the best preventive measures in place, the unexpected can still occur. If it happens to you, find a local dentist to give you the relief you need while saving your tooth.
About Dr. Joseph Noble
Dr. Joseph Noble has improved smiles for over 20 years. He believes in always being there for the community to promote oral health, even during times of emergency. If you have a dental emergency, do not wait. Contact our office today for an appointment.
Comments Off

on Save Your Smile while Traveling with Your Emergency Dentist
No Comments
No comments yet.
RSS feed for comments on this post.
Sorry, the comment form is closed at this time.