November 15, 2017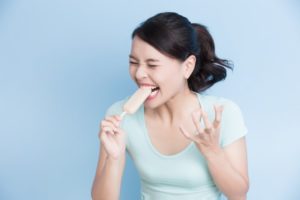 It's that time of the year again – the big UT San Antonio vs Texas State University rivalry football game. As you sit outside with your crew tailgating, you enjoy the crispness of a certain ice-cold beverage, and notice that one of your teeth seems to be unusually sensitive. You can't get in to see your dentist on a Saturday, but you need some answers now. Read ahead to learn what may be the cause of your sensitivity.
What Causes Tooth Sensitivity?
It's helpful to know what can cause tooth sensitivity, so that you won't be caught by surprise.
Food Consumption – The types of food you eat can harm your teeth depending on how acidic they are. Juices, citrus fruits, and sports drinks eat away at the enamel on your teeth over time.
Chewing Ice – This can cause cracking in your enamel, which can lead to tooth pain.
Aggressive Tooth Brushing – Brushing your teeth in an abrasive manner can increase tooth sensitivity. If this problem occurs, use a softer bristled toothbrush and brush gently.
Tooth Decay – Cavities are small holes that eat away enamel to expose the more sensitive dentin layer of your teeth. This is repaired with a filling or crown.
Split Tooth – Sensitivity upon biting down could be an indicator of a split tooth. This requires the prompt attention of your dentist.
Eating of Digestion Disorders – Frequent vomiting exposes your teeth to excess stomach acid, which wears away at the enamel on your teeth.
Pregnancy – Pregnancy doesn't directly cause tooth sensitivity, but the hormonal changes associated with the mother's body taking minerals from itself to supply the baby may leave the her teeth vulnerable to wear and sensitivity.
Stress – Stress mishandled can lead to bruxism (grinding of the teeth). The constant grinding may cause increase sensitivity, as the teeth are worn down.
Sinus Infection – A sinus infection can cause increased pressure due to the inflammation of the sinuses.
Tooth Whitening – The overuse of whitening products can yield a temporary side effect of sensitive teeth.
Temporary Remedies
Until you can visit your dentist, there are a few quick remedies you can employ. One is a salt rinse, which involves warming some water and slowly adding the salt while stirring. Sea salt is recommended, but "table salt" will do. Next, rinse your mouth with the solution.
Another remedy is clove oil. Just drop a small amount of this essential oil on a tissue or cotton swab and gently apply it to the sensitive area.
Finally, try using hydrogen peroxide. This helps kill bacteria and take the edge off the pain. Just rinse with the hydrogen peroxide solution and spit it out.
It is important not to ignore the sensitivity, as it is your body's way to alert you that something is possibly wrong. If the pain persists, be sure to schedule a visit with your dentist.
About the Author
A home-grown San Antonian, Joseph A. Noble, DDS has been improving smiles for over 20 years. He completed his undergraduate work at Texas A&M and his doctorate at the University of Texas Health Science Center at San Antonio, holding memberships with the American Dental Association and Texas Dental Association. He practices at Joseph H. Noble DDS Family & Cosmetic Dentistry. To learn more about his services contact him at his website.
Comments Off

on Your Dentist Explains Why You May Be Experiencing Tooth Sensitivity
No Comments
No comments yet.
RSS feed for comments on this post.
Sorry, the comment form is closed at this time.