October 1, 2017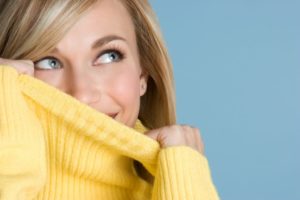 Imagine going on a date and having the time of your life. Your date is easy on the eyes, has a great personality, and you are both connecting well. But one thing makes you think twice about going on a second date: their breath! There's nothing that can put a damper on a great conversation like bad breath.
If you want to feel confident in yourself and your oral health, your dentist created this week's blog just for you. Here are 3 very helpful tips on how to avoid bad breath.
3 Tips to Avoid Bad Breath
1.     Keep up Good Dental Hygiene.
The good news is, keeping good dental hygiene handles most of the work when it comes to warding off stinky breath. Brushing your teeth twice a day and flossing daily helps prevent dental bacteria and other debris from lingering around your mouth.
If you want to be sure to eliminate all chances of bad breath, brush or scrape your tongue to get rid of the coat of bacteria that covers your tongue in the morning and before you go to bed at night. Take care of your tongue at least once a day, and you're almost sure to get that second date.
2.     Use a Minty Mouthwash.
Don't confuse this tip with replacing brushing and flossing with mouthwash. It's still important to brush your teeth and remove plaque between your teeth by flossing, but mouthwash can add the "cherry on top" of your dental hygiene routine. Plus, some mouthwashes included antimicrobials that fight halitosis-causing dental bacteria.
3.     Drink More Water.
Everyone knows that drinking more water can improve your overall health, but did you know that water helps to keep your breath fresh? Water helps to keep your mouth naturally producing saliva, one of the first defenses against uninviting breath. If you're dehydrated, your mouth tends to feel dry and sticky, and you may even have a bad taste in your mouth. And as you might have guessed, all of those factors equal bad breath. So instead of the soda pop, sip on water!
If You Still Have Bad Breath, You Need Professional Assistance
You've already tried everything on this list and can't keep your breath from "kicking? It's time to see a dentist. Persistent bad breath can be due to dental problems, like tooth decay, infections, gum disease, or even be signs of other systematic health concerns. Be sure to mention any and all concerns to your dentist.
---
About Our Office
The office of Dr. Joseph H. Noble has been in business since 1961. We pride ourselves on providing high-quality dental care for a variety of patients will all different dental issues. If you're nervous to communicate about a problem like chronic halitosis, you can rest assured that we'll handle your dental care with an open mind and complete confidentiality. The least of your worries should be if your dental team will judge you, we're just here to help you achieve optimal oral health! Feel free to contact our office if you have any questions or would like to schedule a cleaning appointment.
Comments Off

on Dentist Provides 3 Need to Know Bad Breath Busting Tips!
No Comments
No comments yet.
RSS feed for comments on this post.
Sorry, the comment form is closed at this time.