July 20, 2017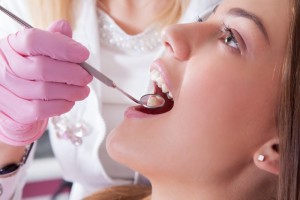 Sometimes your regular cleaning and checkup appointment at the dentist feels like a nuisance, especially when you're in the middle of a busy workweek. The last thing you want to do is take time out of your busy day to visit the dentist, and you might even consider canceling that appointment; however that's a huge mistake! Your dentist in San Antonio explains why.
Why Are Routine Dental Visits So Important?
Many people feel that it is unnecessary to visit the dentist until there is something wrong or your tooth hurts. However, many dental issues such as tooth decay and gum disease don't cause you pain until their later stages, and at this point the damage is likely much worse for your tooth. Unlike your medical doctor that you visit when you're sick, with dentistry prevention is much more effective and can save you from invasive and costly treatment procedures.
What Happens at My Routine Cleaning and Checkup?
There are a few important things that take place during your six-month cleaning and checkup. First, Dr. Noble will screen you for issues such as oral cancer, tooth decay, gum disease, and cavities during each checkup. With yearly x-rays, and a thorough exam he can detect many concerns in their earliest stages.
Next, our hygienist will clean your teeth and remove the plaque buildup that causes gum disease and tooth decay. We also take the time to educate you about your oral health, which includes tips on proper brushing and flossing techniques so you can make the most of your home care routine. We may also recommend additional products to improve your brushing and flossing at home.
The Oral Systemic Link
Thanks to emerging studies, we now have understanding of how oral health is connected to your overall health and well being. The bacteria that causes periodontal (gum) disease can also contribute to other health concerns in the body like diabetes, cardiovascular disease, high blood pressure and vice versa. This is known as the oral systemic link and it tells us that there's never been a more important time to take care of oral health.
Contact Dr. Noble to Schedule Your Appointment
If it's time for your next dental checkup and cleaning, give us a call today to schedule. If you considered canceling your appointment, now you understand why it is so important to see your dentist regularly.
Comments Off

on Why Do I Need to See My Dentist in San Antonio Regularly?
No Comments
No comments yet.
RSS feed for comments on this post.
Sorry, the comment form is closed at this time.