January 21, 2017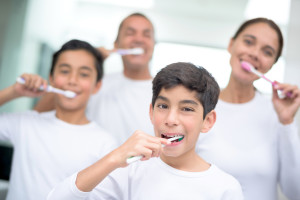 Your dentist in San Antonio, Dr. Joseph H. Noble, crafts beautiful new smiles using modern cosmetic dentistry techniques. Just think about how you would like your smile to change, and Dr. Noble and his team will work with you to achieve it. Whether you are concerned about tooth color, enamel defects, dark fillings or old restorations, Dr. Noble will transform your teeth into a smile you truly can be proud of.
How Can You Refresh Your Healthy Smile?
Cosmetic dentistry remakes healthy teeth that just come with have aesthetic defects or, over time, have developed some. Examples are chips, stained enamel, gaps, overcrowding, hairline cracks and anything that discourages a person from smiling broadly and feeling his or her very best.
In the past, individuals had to be satisfied with their smile aesthetics, but in recent decades, cosmetic dentistry has developed numerous services that even tooth, repair small defects, replace dark fillings and remove deep stains. Singly or in combination, these services enhance a smile and the person who shows it.
So, the smile makeover process begins with a consultation with Dr. Noble, cosmetic dentist in San Antonio. He will examine your teeth and gums to ensure their health, take digital X-rays and photos and formulate a treatment plan incorporating your desired changes and his expert recommendations. He and his staff will workout a treatment timeline convenient to your schedule, and of course, they will accommodate your budgetary concerns as well.
Offered Cosmetic Services
Direct bonding  Also called composite resin bonding, this popular treatment repairs small defects such as pits, chips, and hairline cracks. In one brief visit, Dr. Noble uses a tooth-colored putty made of acrylic and glass to sculpt better tooth shape and size. The repairs are natural-looking and durable, bonded in place with a special hardening light.
Professional teeth whitening Dr. Noble offers whitening in both in-office and at-home versions for teeth that are brighter by several shades of color. The safe and effective process uses strong hydrogen peroxide gel applied in one hour in the dental chair or more gradually over several days at home.  With good hygiene and occasional touch-ups, teeth remain stain-free indefinitely.
Porcelain veneers These dental laminates are shell-shaped, tooth-colored covers which disguise deep stains, gaps and larger dental defects such as fractures. Customized from oral impressions and a three-dimensional model of the patient's mouth, veneers are permanently bonded in place and produce smiles that are beautiful and natural-looking.
Tooth-colored fillings and all-ceramic crowns These restorations combine the best of restorative and cosmetic dentistry in one treatment. White fillings are made from composite resin. They seamlessly repair fillings, forming a long-lasting, strong bond with natural tooth structure. All-ceramic crowns, inlays and onlays restore more heavily damaged enamel without the obvious appearance of old style crowns.
So, You Can Get a New Smile
If you can envision it, Dr. Noble can make it happen. Why not contact Joseph H. Noble DDS Family & Cosmetic Dentistry today for a friendly one-on-one consultation with the doctor and his team? You'll be pleased with his recommendations and your new smile.
No Comments »
No comments yet.
RSS feed for comments on this post.
Leave a comment