Missing One Tooth – San Antonio, TX
Rebuild Your Smile with Dental Implants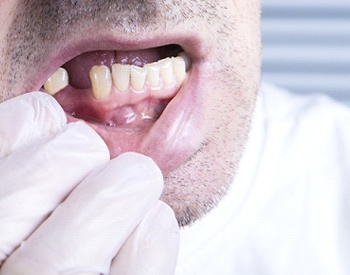 Every tooth is vital to your quality of life and oral health. Losing one not only causes both to decline, but it is also devastating to your confidence. Not to mention, you will slowly develop new complications as time goes on, such as your teeth moving out of alignment. It is best to replace your missing tooth quickly to rebuild a beautiful, healthy smile. Now, you have several options to fill the empty space. In addition to traditional treatments, you can also discover the benefits of dental implants in San Antonio. Dr. Joseph H. Noble has a solution that meets your needs and your preferences.
Single Tooth Replacement Options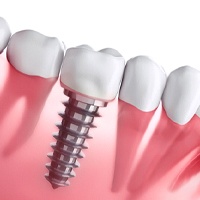 A single missing tooth may not seem like an immediate concern, but it can have lasting consequences for your oral health if you do not replace it right away. Whether a tooth is lost from decay, disease, injury, or extraction, you do not just lose the crown. You also lose the root. As a result, your jawbone is no longer stimulated. This causes it to deteriorate, which makes your remaining teeth lose support. Over time, they shift toward the open space, creating alignment concerns. This makes your teeth harder to clean, increasing your risk of tooth decay and gum disease. Unfortunately, the complications do not stop there. As you lose more bone, your teeth become loose and may fall out.
Dr. Noble will find an effective solution to fill the empty space using one of two methods:
Fixed Bridge: Also known as a bridge and crowns, an impression of your mouth is used to craft a prosthetic tooth that matches the appearance of your natural teeth. It is held in place by altering your adjacent teeth to bond custom-made crowns over them.
Single Tooth Implant: A titanium implant post is surgically placed into your jaw to act as a new root. An abutment is attached to it to connect a custom-made crown. Replacing the entire structure of your tooth gives you an option that closely looks and feels natural.
Benefits of Single Tooth Implant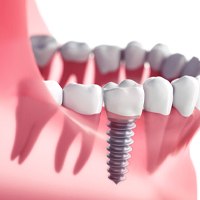 A dental implant is the only solution to treat both the root and the crown. This allows you to enjoy several advantages that are not achievable using a fixed bridge, such as:
High Success Rate: The implant post stimulates your bone to encourage new growth. This allows the two to fuse together. With the right aftercare, you can enjoy over a 95% success rate for a solution that can last for decades.
Feels Natural: Your jawbone provides a secure foundation for your replacement tooth. You will regain as much as 70% of your biting force.
Looks Natural: Your crown is custom-made from all-ceramic material to mimic your real teeth.
Improves Your Oral Health: The implant post preserves your jawbone's density to provide your remaining teeth with the support they need to stay in place. You also do not need to alter healthy teeth to preserve your smile.
Cost-Effective: Dental implants can last for decades with the right aftercare, so you never need to worry about having them replaced.
Schedule Your Consultation
If you are ready to rebuild your smile, contact your dentist in San Antonio, Dr. Noble, to schedule your consultation.